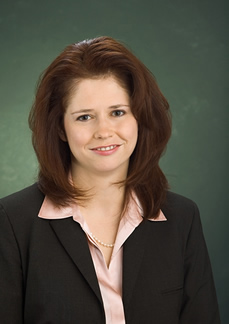 Dr. Tappenden received her B.S. and Ph.D. in Nutrition and Metabolism at the University of Alberta in Edmonton, Canada. After completing a post-doctoral fellowship at the University of Texas-Houston Medical School, she joined the faculty at UIUC in August 1997 as an Assistant Professor of Nutrition. She was promoted to Associate Professor in 2003 and Professor in 2008. Dr. Tappenden has been Associate Dean of the Graduate College since 2006.
Dr. Tappenden's research program focuses on individuals afflicted with intestinal failure and therefore requiring intravenous nutrients and fluids to prevent death from progressive malnutrition. The economic and quality of life burden for these individuals is very high and curative therapies are lacking. With these afflicted individuals in mind, she has tested hypotheses fundamental to the field of nutrition and gastrointestinal physiology and provided insight into regulation of intestinal function by various nutrients and intestinal-specific peptides. Dr. Tappenden has established fundamental and innovative animal models simulating intestinal failure that have enabled the testing of critical hypotheses relating to the regulation of gastrointestinal function. Dr. Tappenden's National Institutes of Health (NIH)-funded research has demonstrated that butyrate - a metabolic product of dietary fiber fermentation within the human colon - stimulates intestinal adaptation and may provide a clinically efficacious therapy for enhancing the necessary nutrient digestion and absorption in individuals with intestinal failure. In addition to conducting mechanistic studies in cell culture and pre-clinical animal models, many of Dr. Tappenden's critical research observations have contributed to novel clinical therapies under investigation in humans with intestinal failure.
Dr. Tappenden enjoys teaching within her own laboratory, as well as advanced undergraduate and graduate nutrition courses. While working in Dr. Tappenden's research group, many of her colleagues-in-training have received prestigious awards from the University of Illinois, the American Society of Nutritional Sciences and the American Society of Parenteral and Enteral Nutrition. For her efforts in the classroom, Dr. Tappenden has been listed on the University of Illinois Incomplete List of Teachers Ranked as Excellent by Their Students thirteen times in the past dozen years and received teaching awards from both the university and outside organizations. In 2008, Dr. Tappenden was awarded the prestigious designation of University Scholar. Among her many activities in professional societies, Dr. Tappenden served as the 33rd President of the American Society for Parenteral and Enteral Nutrition in 2008-09. In her role as Associate Dean of Graduate College, Dr. Tappenden has provided strong leadership to academic programs, implemented innovative and interdisciplinary programs such as Professional Science Masters degrees, and studied "best practices" in graduate education as an investigator in the Council of Graduate Schools Ph.D. Completion Project.
Dr. Tappenden and her husband, Trevor Nadrozny, live in Champaign, Illinois, with their two young daughters, Katie and Madeline.